The allure of owning a second home continues to captivate many, not just as a personal retreat but as a promising investment avenue. Recent data from Dataloft Inform which covers information from the English Housing Survey sheds light on the multifaceted ways homeowners utilise their additional properties, highlighting a promising trend in rentals. In this article, we'll take a look at these insights in a bit more detail.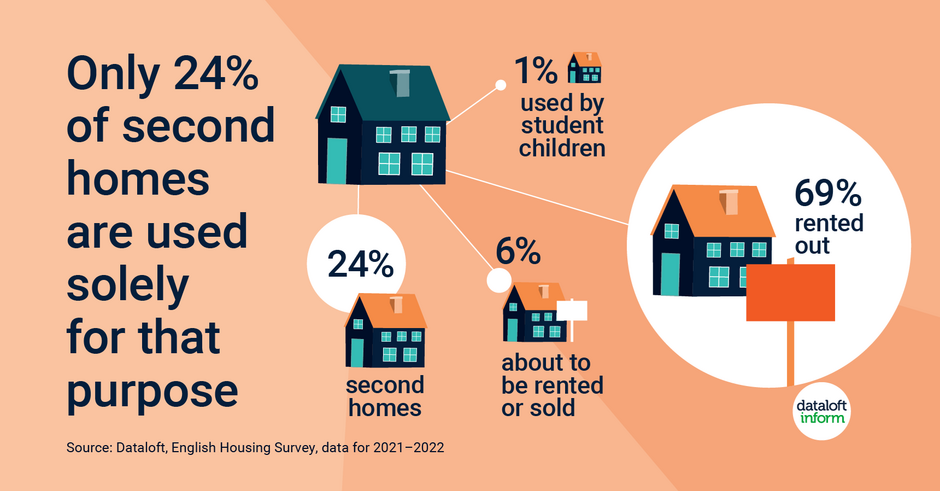 A Snapshot of Second Homes in the UK
According to the latest statistics from the English Housing Survey, an impressive 3.3 million second homes are scattered throughout England. This represents a sizeable portion of the property market. The nature of the usage of these second homes provides an interesting read.
Second Homes as Rental Properties: The dominant use of these properties is rental, with a whopping 69% being rented out. This indicates a robust rental market, hinting at both demand from tenants and potential lucrative returns for homeowners.
Upcoming Listings: 6% of these second homes are on the brink of entering the rental or sales market, suggesting a dynamic property market with homeowners poised to take advantage of the benefits of letting or selling.
For Student Children: A marginal 1% of these homes are reserved for student children. It's a niche but notable use, signifying parental support in higher education settings.
Exclusive Second Homes: The remainder, 24%, are maintained strictly as second homes. This shows that while many appreciate the joys of having a holiday or weekend retreat, there's a massive untapped potential in terms of rental.
The Merits of Renting Out Your Second Home
The prevailing trend of renting out second homes isn't without reason. Let's dive into the benefits:
Additional Income Stream: Renting provides a steady monthly revenue. In the long run, it can not only pay off any mortgages or loans on the property but also provide a profit.
Capital Appreciation: Besides the rental income, the property's value often appreciates over time. This means your asset is working doubly hard for you.
Flexibility: You can decide the terms of the lease, whether short-term such as holiday lets or long-term with a permanent tenant.
The Role of a Letting Agent in Streamlining the Process
While the advantages of renting out a second home are apparent, the process can be daunting. This is where the expertise of a letting agent, like Belvoir, becomes invaluable. Here's how:
Understanding Legislation: Navigating the intricate labyrinth of rental legislation can be challenging. Professional letting agents are well-versed with the nuances and can ensure compliance, saving you potential legal complications.
Crafting Contracts: A watertight tenancy agreement is essential. Experienced agents can draft contracts that protect your interests while being fair to the tenant.
Thorough Checks: Tenant referencing, credit checks, and right to rent verifications are fundamental in ensuring you're letting your property to a reliable individual and staying the right side of UK legislation. Agents handle this meticulously, offering peace of mind.
Efficient Rent Collection: Letting agents can manage timely rent collection, ensuring consistent cash flow while saving you the hassle.
Regular Inspections: Agents also conduct periodic property checks, ensuring it's well-maintained and adhering to the terms of the lease.
Inventories and Maintenance: Professional inventory lists and managing property maintenance are additional tasks that agents manage proficiently.
Is it time to consider renting your second home?
With the vast majority of second homes in the UK being rented out, it's evident that homeowners are tapping into the benefits of the rental market. If you're among the 24% using their property exclusively as a second home, now might be the opportune time to consider the rental route. With experienced letting agents like our team at Belvoir by your side, the journey becomes smooth and rewarding.