COVID Guidance - England only
As a result of the Government Announcement released on 12th May, our offices are now beginning to open, following the strict safety guidance that we have been given. We are delighted to be able to serve our customers needs more and help people with all of their property needs.
In order to comply with government guidance our offices have been busy making changes to ensure that they are working within government guidelines to help keep you safe whilst looking after your property needs. We are proud to be able to say we comply with the governments Staying Covid-19 Secure in 2020 campaign. All of our offices have been given the following certificate and have actioned the five steps.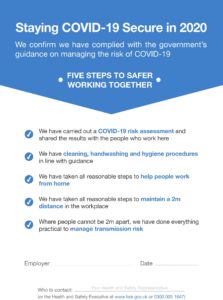 As you know all of our franchised offices are run by independent business owners, any questions please do contact the individual office for specific information.
We have put these general FAQ's together to help you navigate these changes: