Is renting a home really worse for your finances than buying one? It's time to crunch the numbers and bust some myths.
It's the millennials' lament: we can't afford to buy a house. Brick by brick the dream of homeownership has become increasingly unviable for young adults, thanks to rising house prices and wages that have failed to keep up.
In real terms house prices have risen seven times faster than the incomes of young adults during the last two decades. The result? In 1995-96, 65% of middle income adults aged between 25 and 34 owned a home. In 2016 that figure was just 27%.
But is renting property really so bad? Is renting worse than buying? Does it really leave you worse off than buying? When you run the numbers, it's often the case that you could actually be far better off financially when you choose to rent property instead of buying a place of your own.
You can't always believe what you read
In the messy thicket of the www, you won't struggle to find articles that boldly proclaim how much more expensive it is to rent than buy. But let's pause for thought, because these articles get two things wrong.
Firstly they assume that you have a deposit of between 16% and 26%. In reality tens of thousands of first time buyers have far smaller deposits – hence the government-backed schemes that allow you to buy a house with just a 5% deposit.
>> Affordable homeownership schemes to help you onto the property ladder
Secondly the vast majority of analyses only compare 'average rent' against 'average mortgage payment'. That fails to take into account a huge range of additional costs incurred from buying property. Crucially it artificially skews the numbers against the cost of renting.
The overlooked costs of buying property
If most analyses of renting vs owning a home simply compare mortgage payments with the cost of rent, what are the costs of buying property that are being overlooked? Firstly there's the cost of actually getting your mortgage if you use a brokerage service or go through an independent financial adviser. That can be anywhere from a few hundred pounds to several thousand. Then there's the cost of conveyancing and the cost of conducting searches, where legal experts examine historical factors such as flooding, subsidence and boundary issues that could affect your property. Again the cost can be anywhere from a hundred to several thousands of pounds.
Then there's the cost of stamp duty. And while stamp duty has been dramatically reduced for first time buyers, you will still have to cough up a certain amount if the value of your property is in excess of £300,000. Next up is survey fees, which are conducted to make sure the property you're purchasing is in good condition and structurally sound. That will set you back around £250 – £1,000 + VAT. We're not finished yet. Because there's still buildings insurance to consider, for which you can expect to pay £50 – £200. And assuming you have furniture and possessions to move, removal costs of between £300 and £2,000.
You are responsible for your property…
When you are renting property and the shower breaks or the boiler packs up or the gutter starts leaking, it's the landlord's responsibility to sort it. But when you own property you are solely responsible for the maintenance of your house – and that can be expensive. It's wise to budget at least £1,000 per year just to keep your property shipshape. Again, that's a cost that many online analyses fail to consider.
Let's run the numbers
Kate Faulkner is one of the UK's most eminent property experts. In 2017 she authored an ebook that told first-time buyers everything they needed to know about purchasing property. It was in this ebook that Kate began to dispel the myth that buying property is necessarily better for your bank balance than renting. To illustrate her argument she put forward the following figures – based on a £125,000 property.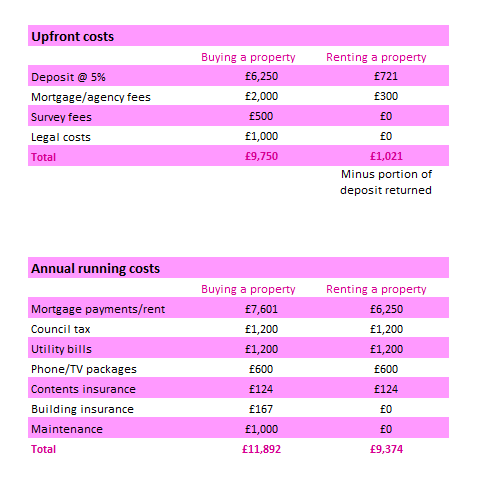 *Figures from Propertychecklists.co.uk: First time buyer ebook
Kate's example suggests that you would need to find nearly ten times as much money to buy the property versus renting it. In terms of ongoing costs it would cost £2,518 per year less to rent than to buy. Yes, of course, when you own property your house will – in theory – appreciate in value. So you build equity. But if it's possible to save by renting you can always put that money into other investment channels to build your equity.
The take home point? Look at the bigger picture.
Home sweet home? There's lots to love about owning your own place. But renting doesn't have to be viewed disparagingly. In fact renting can save money, hassle and time. That's why in many countries there are more residential renters than owners. In Germany for example, 59% of the population lives in rented accommodation.
Everyone's financial circumstances are unique. So too are your property ambitions. Where one person could be financially better off by renting, another person may save money by owning. But it's essential to look at the bigger picture and consider the wider costs of owning property – such as mortgage fees, legal costs and ongoing maintenance – rather than a simple comparison of mortgage costs versus rental costs. We need to have a deeper conversation to challenge the stereotype that owning is preferable to renting.
That way you can find out exactly what's best for you, your budget and your housing ambitions.
How can we help?
Need a little guidance? Feel free to get in touch with me directly to discuss your position with Belvoir. We can help you run through the potential costs of owning or renting the type of property you want, in the area you want, to see what may work best for your budget.
Luke Clarke
Lettings Manager
01780 723333
luke.clarke@belvoir.co.uk
Luke Clarke is Belvoir Stamford Lettings Manager. Luke has over 12 years of property experience and has built up unrivalled expertise in the lettings industry and remains a tried and tested advisor for landlords who not only intrust Luke with the complexities of day to day property management but also to assist them with the ongoing development of their property portfolio.