The Halifax (as well as the Land Registry and other house price indexes) use data of property that has sold and completed (completion being when monies and keys of homes sold are transferred). The Halifax data was based on properties that completed in December 2019, and as anyone who has sold or bought a Southampton property in the last 10 years knows, the time it takes from agreeing a buying price to handing over the money is many weeks. In fact, the average length of time between sale agreed and completion in the country is running at 19 weeks, meaning the figures mentioned by the Halifax are for sales agreed in July / August 2019. This growth relates to what was happening to the property market in Summer 2019.
One of the most important things for the property market is confidence. Interestingly, Rightmove reported a 28% surge in buyer enquiries between the 13th December and 18th December. After a couple of years of Parliamentary hold-up, the confidence following this general election is unquestionably a much needed boost for the economy (and ultimately confidence), so much so, shares in the new homes builders Barratt jumped 14% and Persimmon 12% the day after the election, showing a property sector anticipation that the property market is about to move forward as suppressed demand for people moving home is liberated.
Looking at the previous elections, I decided to look at what happened to property values in Southampton in the 12 months after each election, with some interesting results.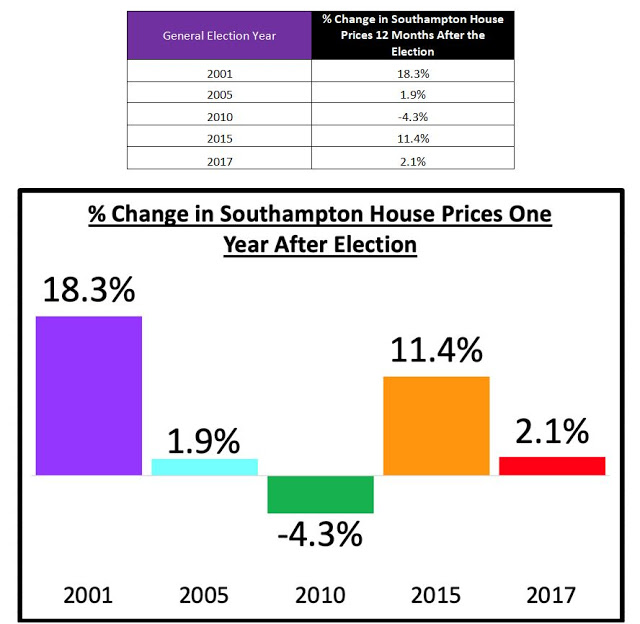 So, with past experience, a general election generally has a good effect rather than a worse effect on the Southampton property market.
Looking at the rest of 2020, my intuition tells me in the better areas of Southampton, it will likely be a seller's market, as they will have more influence to ask for higher asking prices from Southampton property buyers that have placed plans to move on hold for far too long – and this could push up Southampton property values more promptly in the short term.
Yet, as more Southampton properties come on to the market in the usual spring rush, we could see Southampton home buyers having more choice and thus, as supply increases yet demand remains the same, buyers will get more power to negotiate a better deal. Irrespective of that, there is still the all-encompassing issue that I have spoken about many times in my blog of not enough homes being built to keep up with the number required, meaning negotiating power and prices being inflated.
The bottom line is, the Southampton housing market will get a slight boost from the general election. The threat of a Jeremy Corbyn government obstructed some Southampton landlords to build their buy to let portfolio in the later parts of 2019, so as long as sellers remain realistic with their pricing and present their properties in the best light, 2020 in the Southampton property market should be a year of 'steady as she goes'.
P.S .One final thought – remember what I said about the Halifax price Index being 5/6 months behind the times – don't be alarmed when they announce in the March/April/May a reduction in property values – like I said before – this will be the prices achieved in the later parts of 2019 i.e. not what is happening right now.
CLICK HERE TO FIND OUT HOW MUCH YOUR SOUTHAMPTON PROPERTY IS WORTH
If you would like to pick my brains on the Southampton Property Market – pop in for a coffee or drop me a line on social media or email.
If you are looking for an agent that is well established, professional and communicative, then contact us to find out how we can get the best out of your investment property.
Email me on brian.linehan@belvoir.co.uk or call on 023 8001 8222.