A Peterborough businessman and his team have smashed an award winning record with national residential property lettings specialists, Belvoir, after putting in a dazzling business performance last year.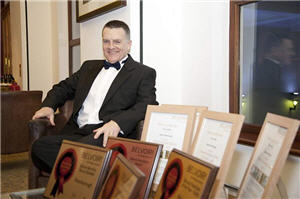 Terry Lucking, who owns the Belvoir Lettings Agency in Peterborough, not only scooped the company's coveted Gold Award for the Belvoir Franchise of the Year – the top honour within the Group's 140 plus UK office network – but also added three other trophies to the Office's awards cabinet. The Peterborough team has also been named Belvoir's Monthly Record Breaker, for the highest month's sales income in 2011; Belvoir's Rankings winner – for top annual turnover – and winner of the Group's Innovation Award – a new category making its debut at the 2012 Belvoir Awards scheme.
Presenting Terry with his clutch of winner's plaques at a ceremony held at the Belton Woods Hotel in Grantham, Lincolnshire was renowned TV wit, presenter, writer and raconteur, Gyles Brandreth alongside Belvoir Managing Director, Dorian Gonsalves.
And, in accepting, Terry gave fulsome praise to the team which made it happen.
"It is fantastic to win the Franchise of the Year Award again, especially after the unplanned parting of a business partner during the year. The fact that we were able to achieve this result is a real tribute to the way my team – Emma, Leah, Alisa, Lottie, Chelsea, Kim, Robert, Iwona and Katie – have all pulled together and taken ownership of not just their own, but their colleagues' responsibilities. Every member of the Peterborough team is self motivated and hungry to deliver the best customer service results combined with business growth and this award recognises that. One of my primary roles is to support the team in terms of training and personal development. This, in turn, will enable us to grow the business and provide opportunities for every team member to increase their value – and their income."
In honouring Terry's major contribution to the entire Belvoir Group, Dorian Gonsalves said: " The Peterborough team is a well deserving winner of our Gold Franchise of the Year award – with Terry helping them to push the boundaries of success and, at the same time, giving enormous support to the Directors and to the rest of the UK network of offices.
" His sales performance has been unrivalled and our newly introduced 'Innovation Award' recognises the way he has pioneered, tested and trained many people, through initiatives such as Buy to Let workshops and seminars. His knowledge and experience gained from many years' experience in the industry brings a major benefit to landlord and tenant clients alike, and we are proud to mark this with yet another series of top awards this evening."
Terry established his first Belvoir franchise in Peterborough 13 years ago. He also owns a second Belvoir Lettings Agency in Cambridge. He is a prominent figure in the property and residential lettings industry and is a former winner of the national 'Franchisee of the Year' award presented by the bfa (British Franchise Association). He is consistently amongst the top performers in Belvoir's annual award scheme and has won countless honours in varying categories. In 2006 he also founded the highly successful; 'Proud to Franchise' networking group of franchise owners from many different sectors.
Crowning the Peterborough team's achievements at the 2012 awards ceremony, was the fact that just two days before Belvoir successfully listed on the AIM market of the London Stock Exchange. Addressing attending franchise owners, Dorian Gonsalves said :"This is one of the most important structural changes in the history of Belvoir and becoming a public company has increased our profile and status on a national stage, showing that we are a transparent and stable company with a permanent future
"We have entered a new era that could not have been possibly reached without the pro-active, positive support from the Belvoir network and the hard work put in by the committed and skilled individuals who make up our company.&rdquo