Belvoir Grantham made their first donation to Grantham Foodbank and are supporting Agents Giving Day on Thursday 22nd October 2020 by collecting food items and donating.
Doing our bit to help our local community – Carly & Rita took a whopping 90 items to the Grantham Foodbank on 28/09/2020!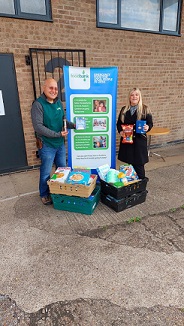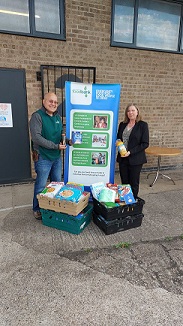 We are not stopping now so please help us support Agents Giving Day on 22nd October 2020 and donate food items to our office.
Below is a request of items in need for the Grantham Foodbank Harvest Appeal;
· Milk, UHT or powdered
· Sugar (500g)
· Fruit Juice (carton)
· Soup
· Pasta Sauces
· Sponge pudding (tinned)
· Tomatoes (tinned)
· Cereals
· Rice pudding (tinned)
· Tea bags/instant coffee
· Instant mash potato
· Rice/pasta
· Tinned meat/fish
· Tinned fruit
· Jam
· Biscuits or snack bars
Unfortunately, we are not able to use items that are past their 'use by date'.

We need your help! Call us on 01476 542100 or email carly.french@belvoir.co.uk to arrange dropping off your donation at our St Peters Hill Branch.
Help us make a difference….