Whether you are having a large gathering or just a few friends and family to gather around a bonfire together, having warm and comforting food available is a must to stave off the cold chill of the night. In this article, we bring you some traditional Bonfire Night favourites along with some different options, including a traditional pudding with a Bonfire Night twist!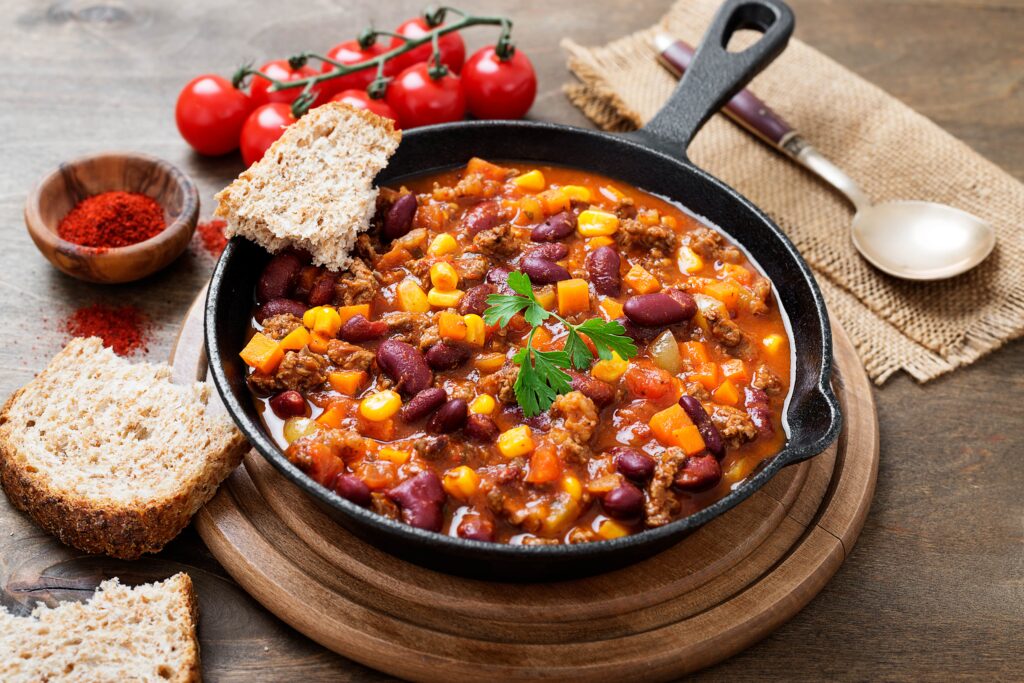 Bonfire Night Chilli
Mmmm! Nothing says warming comfort food quite like a bowl of chilli and rice and this chilli recipe from Sainsbury's will have everyone asking for more! This chilli recipe can be cooked 2 days in advance, then popped in the fridge, ready to be reheated – perfect if you are going to be short of time on the night! It also freezes well, just in case you do have any leftovers. Simplicity at its' best!
Pumpkin and Coconut Curry
If you are looking for a way to use up the flesh of your beautifully carved pumpkins from Halloween, then this tasty and warming curry courtesy of the Guardian could be just the thing. Perfect for a vegetarian option this curry packs a punch with chillies for heat, coriander and lime for a citrusy zing and soft mellow coconut milk. Ready in under an hour, simply sprinkle some toasted pumpkin seeds on top and serve. Delicious!
Pulled Firecracker Brisket
Even the name gets us ready for Bonfire Night, let alone the delicious flavour! Gorgeously warming with chillies and cayenne pepper, this firecracker brisket recipe from BBC Good Food, cooks slowly for 6 hours for a melt in the mouth treat. Served with another Bonfire Night favourite, the baked potato, or why not spoon the sliced meat into flatbreads and enjoy with salsa and sour cream?
Chimichurri-style Steak Sarnies & Cheat's Spicy Fries
If you're looking for an easy to make and eat option, these steak sandwiches with spicy fries are deliciously filling. Although a tongue-tingling, 'fireworks in the mouth' type treat, with a spicy chimichurri sauce, chipotle mayo and spicy Cajun-style fries to serve on the side, this can be adjusted to suit all tastes. A tried and tested recipe that we think is a perfect way to fill tummies before heading out in the cold.
Baked Pumpkin Fondue
Using a carved out pumpkin shell and filled with oozy, delicious, bubbling cheese (have we used enough superlatives yet?), this fondue recipe once again from our friends at BBC Good Food is sure to have everyone gathered around, ready to dip in crackers or toasted bread on forks. The roasted flesh of the pumpkin can be spooned out along with the melted cheese for a truly delicious treat.
Toffee Apple Bread and Butter Pudding
A traditional bread and butter pudding marries together with some quintessential Bonfire Night treat – toffee apples! Ready in under an hour, a delicious smell fills the house when cooking this lovely recipe so be sure to expect everyone to suddenly be gathering in the kitchen… Served with ice cream, custard or a dash of cream, expect empty bowls all round!
Whichever recipe you choose, we hope you all have a safe, happy and tasty Bonfire Night!