As the seasons change, it can feel like the right time to bring about other changes too, such as updating some of the style elements in your home. In this article, we look at what is hot for your home in these cooler months and show you ways in which you can use the latest trends to bring a cosy and comforting feel to your décor this Autumn.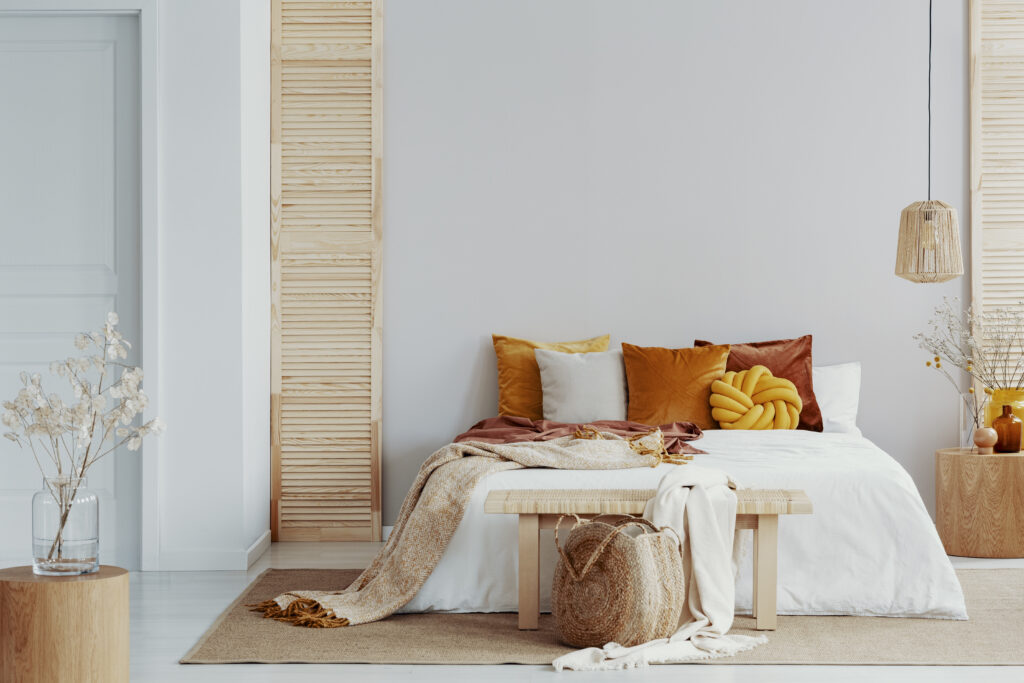 The Colours of The Great Outdoors
The Great Outdoors seems to be top of the tree when it comes to style accents and elements this Autumn. Research carried out by OnlineMortgageAdvisor.co.uk into what we are putting on our home styling Pinterest boards shows an overwhelming lean towards the lush deep greens of the outdoors, twinned with all things nature. Try accent walls in deep forest greens, paired with soft furnishings such as cushions and throws in the beautiful oranges, mustards, and burgundies to reflect the beautiful work Mother Nature is creating outside. Silver accents are high on the list too, reflecting the element that is found in many naturally occurring minerals. Brushed silver-coloured lamps or silver sculptures and wall art pair perfectly with deep greens or burnt oranges for an opulent look to your home.
Reading Corner
According to the research, the 10th most popular Autumn trend was for creating a reading corner. What a wonderful way to while away an hour or two, curled up in a cosy nook with a great book as the wind and rain do their worst outside. Creating a reading corner needn't be expensive. Try a look through social media selling sites (or better still, Freecycle!) for an old chair that can be purchased cheaply and reupholstered with a beautiful plush dark green velour. Add a throw in soft, warm neutrals (the 7th most popular trend this Autumn according to Pinterest) to curl up in and some nature inspired artwork to bring a sense of peace and tranquillity to the space. This handy tutorial from Spruce.com will walk you through how to create a cosy reading nook. The right lighting choice will be essential as the nights draw in. Daylight lamps will be kinder on your eyes, browse through the daylight lamp range from Native Lighting, they even have lamps suitable for low vision readers.
Room Dividers
The 3rd most popular home styling trend this Autumn is for room dividers. Likely inspired by the move to increased working from home that we've seen over the past 18 months, the functional room divider creates the perfect space to work from without having to make huge alterations. A room divider also creates a cosy feeling, sectioning off areas to relax in as we say farewell (but not goodbye) to the more open-plan style of summer living. A recreation of nature indoors can be achieved by using rattan or wicker screens to good effect, perfect for creating your reading nook too. Or consider using standalone dividers or freestanding bookshelves in bare oaks and walnuts, JYSK.co.uk have some great shelving room dividers, a great solution if you lack storage space.
Curves are in!
Shaped furniture is set to be a big deal this Autumn, with curved sofas, coffee tables and even bathroom suites featuring heavily in this design trend. Gone are harsh horizontal lines replaced by the softness and fluidity of the curve. Reflect this in your accent pieces too – use round cushions and curvaceous vases and lamp bases to great effect. Curve inspiration can be found here on the Bruno Effect website.
We hope you found some inspiration in our Autumn 2021 home style trends article. One element of Autumn style that we hope will never go out of fashion is the traditional mug of hot chocolate and a warm and cosy throw. Perfect for curling up on these darker evenings, enjoy!